Register Now for Pre-K Music
Call Us Today. 813-991-1177
Next Class Starts January 11
Call now to reserve your class
---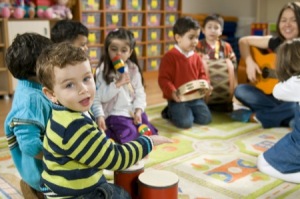 NEW THIS YEAR!
These preschool music classes offer a fun and engaging environment for children ages 6 months to 4 years—the ones that are too young for private music lessons—to explore music. Each semester includes a variety of activity-packed classes to accommodate various learning styles. Students will discover their singing voices, play musical instruments, and participate in a variety of activities and games. We have combined aspects of the most trusted music education methods to create a truly unique, engaging, and complete curriculum.
The Mommy/Baby Music classes are a great way for parents to learn with their children about engaging in musical activities, so that both can gain from the benefits of music, together, in their daily activities. The Pre-School Music classes will gradually prepare and transition the 3- and 4-year-old students into regular, private music lessons.
Because each semester and class is varied, it is not necessary to have different levels within each age group. So, a child that is still within the same age grouping after completing one or more semesters will still have new adventures and experiences in the next semester's class for that same age group. The classes are designed to activate and stimulate different parts of the brain than the typical daily experiences in a child's life. Music has been shown by studies, such as the one by Educational Activities, Inc., to have a positive effect on children's cognitive skills, such as memory and spatial reasoning.
Many studies indicate that there is a strong connection between participation in music from a very young age and improved cognitive skills in children which can increase creative thinking and problem solving abilities. Our pre-K classes make all of this science happen with full engagement and parent-child time that enhances the sheer joy of learning and immersing in music. Plus, everything you need for the classes is included!
Classes are grouped by age for 6-18 months, 19-35 months ("Mommy/Baby" Music), 3 years, and 4 years (Pre-School Music). Each class runs for a semester: Summer is 10 weeks and Fall, Winter and Spring are each 12 weeks. Each class meets once each week - 30 minutes for the young ones and 40 minutes for the 3- and 4-year-olds. Class size is limited to 7 students (plus parents) so that everyone gets the benefits of a small class with the interaction of a larger group of other kids. Cost for each class is $16.90 in summer and $14.08 for the other three semesters.
Call 813-991-1177 now to register for the next semester,
OR
CLICK HERE to register online.
---